Published: June 2001
Topline Summary
The market for small electrical appliances is worth IR£40m in the Republic of Ireland and £18m in Northern Ireland.
Small electrical appliances typically account for 15-20% of the total (white, brown and small) electrical market.
The market is growing at around 6% pa in Northern Ireland and by 10-12% in the Republic.
Combined sales of selected kitchen tools account for £1.8m in Northern Ireland and IR£4.2m in the Republic.
The Irish small electrical appliances and kitchen tools market is dominated by imports and Irish manufacturers are thought to have less than 5% share of the market.
There are only two significant Irish manufacturers; Glen Dimplex in the electrical goods sector and Kelly Hunter in kitchen tools.
The main factors affecting the development of the market are:
- Economic confidence levels
- Growth in the housing stock/market
- Replacement market
- Changes in the distribution channels
- Influence of fashion trends
- Lifestyle/eating trends
The markets for small electrical appliances and kitchen tools are fairly mature with high levels of household penetration. Growth comes from the replacement market.
Key product trends are design and technology led with an emphasis on modernity, functionality and energy efficiency.
Retail trends favour the expansion of UK and Irish multiples at the expense of independents and specialists. Department stores and mass merchandisers have also entered the sector. The Internet development is in its infancy in this sector.
Pricing and margins are very competitive in this sector at an average of 30%, necessitating volume business and limiting scope for Irish manufacturers.
Opportunities for Irish manufacturers in the sector are niche orientated and require value added design or technical innovation. New channels such as giftware outlets and homeware shops also present new routes to market.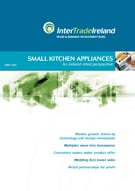 Click here to download the full report: Small kitchen appliances. An Ireland retail perspective