Published: November 2000
Topline Summary
Market Size
The housewares market in Ireland was worth IR£526m in 1999 or STG£412m at retail prices. The four main product categories covered in this report are: soft furnishings, carpets, lighting, and mirrors and frames.
Northern Ireland accounts for STG£160m sterling or 39% of the total market, against IR£322m in the Republic.
The market is forecast to grow 20% by the year 2001, with the market in the Republic projecting 25% growth against 13% in Northern Ireland.
A sustained period of economic growth (7% forecast for 2000 in the Republic and 2.8% in NI) coupled with a buoyant residential housing market are the key drivers behind the housewares sector growth. The number of households is on the increase, with almost 60,000 new dwellings being projected annually for the next three years. The baby boom from the 70's is increasing the young/adult population, as is the significant number of immigrants returning home to exploit the benefits of the Celtic Tiger.
Segmentation
Soft furnishings is the largest and most important segment of the Irish housewares market accounting for 44% of the total market by value. Carpets account for 38%, lighting 12%, and mirrors and frames 6%.
Within housewares, the soft furnishings sector has experienced the highest growth of approximately 60% in the past five years. This is expected to continue with the recent influence of fashion designers and material innovation on product development. Window dressings, cushions and covers are the fastest growing product categories within this sector.
Higher disposable incomes, the influence of fashion, combined with consumer confidence and new lifestyle trends are all having an effect on the type of houseware products which Irish consumers are purchasing.
Manufacturing
Irish manufacturers' estimated share of the domestic housewares market is 25% (IR£132m).Their influence is strongest in the market for soft furnishings, kitchen textiles and carpets sectors, which are sold primarily through quality independent retailers and department stores.
Irish products are associated with high quality. Retailers expect a dynamic attitude from their suppliers and rely on them to introduce innovation in product styles and colours.
Retailing
Independent retailers dominate the Irish housewares market. Housewares are sold in furniture
stores as part of the 'one stop shopping' concept and in specialist housewares, giftware and general homeware stores.
DIY stores are increasingly becoming an important distribution channel especially for durables
such as flooring, lighting, and mirrors and frames.
Advertising and marketing
Advertising and marketing expenditure is dominated by the retailers, and press is the most popular media accounting for 63% of the total advertising expenditure in Ireland.
Retailers expect their suppliers to provide marketing and sales support in the form of brand support, brochures, staff training and retail support.
Future opportunities
The Irish market is expected to grow by 20% over the next two years, reaching a value of IR£630m by 2001. This offers Irish manufacturers substantial opportunities to increase sales.
Manufacturers need to consider several key success factors:
New product developments to take account of changes in lifestyle, changing consumers tastes and international/European trends, and co-ordination with furniture trends.
The pace of new product launches/updates needs to be accelerated to meet European competitors standards, ie every 2-3 years.
Simple ranges of functional contemporary designs at affordable prices are common elements of the most successful ranges in the market today.
More selective retail distribution with tighter key account management and retailer support programmes to include product training, display, brochures and territory exclusivity.
Attendance at the various trade shows to view international and European designs/materials and to research upcoming trends in the wider furniture and fashion business.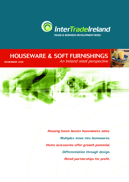 Click here to down the full report: Houseware and soft furnishings. An Ireland retail perspective