Published: November 2000
Topline Summary
The market for hotel furniture in both the Republic and in Northern Ireland is currently estimated to be worth just under IR£20 million/Stg£16 million. Of this total, IR£9.1 million/Stg£7.3 million is
new build and IR£10.4 million/Stg£8.3 million is refurbishment.
The new build market in the Republic is more than 4 times that of Northern Ireland, and the refurbishment market in the Republic is about 9 times that of Northern Ireland.
Irish hotel furniture is primarily a project market, especially for fitted furniture. It is also a local market due to the high level of contact, negotiation and service required throughout the fitting and furnishing process.
The Irish hotel furniture industry consists largely of 10 companies, who concentrate mainly on case goods. Between them they have a 90% market share. They have built up good relationships with architects and hotels based on their track record.
The decision making process in furnishing a hotel usually involves to varying degrees the designer, the hotelier and the building contractor. All three may input purchasing and supplier selection decisions.
Refurbishment usually occurs 7-8 years after opening and every 4-5 years after that. There are different refurbishment cycles for bedrooms and beds, public areas and dining rooms.
Promotion of hotel furniture mainly involves direct contact by sales representatives with potential buyers and specifiers. A lot of business is won by word-of-mouth and good reputation.
The most important factors that buyers consider when choosing a supplier are reliability, prompt delivery and value for money. All things being equal, buyers prefer to deal with a local manufacturer. Overseas suppliers have the disadvantage in Ireland of distance during selling and technical negotiation.
The new build market may be reaching saturation. The main opportunity for Irish hotel furniture manufacturers is in refurbishment, which will continue to grow as existing hotels keep pace with new ones .There may be scope to stimulate business by proactively selling to potential customers.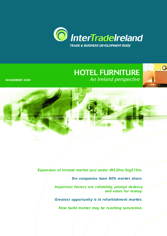 Click here to download the full report: Hotel furniture. An Ireland perspective