Published: October 2005
Executive Summary
The aim of this report is to propose a vision which would enable income per head on the island of Ireland to reach the level of the Top 5 economies in the world by 2020. Achievement of this target will require close collaboration in fulfilling the economic and skills potential of the people of the island. Collaboration already exists at the highest levels of government and policy, exemplified in the establishment of the cross-border institutions, particularly InterTradeIreland, whose mission is to enhance the global competitiveness of the island economy to the mutual benefit of the island, North and South.
Key Recommendations
Adopt target for island of Ireland to be in Top 5 global economies, in terms of income per head, by 2020.
Robust increase in supply of qualified engineers (7 per cent), IT staff (6 per cent) and PhDs (13 per cent) per annum.
Develop world class centres of research linked to Engineering and IT schools that share resources.
Promote engineering and science as career options much more intensively.
Make greater efforts to attract women into engineering, targeting 50/50 gender distribution.
Provide more substantial resources to increase graduate, and research output from higher educational institutions.
Expand programmes supporting linkages between industry and third level institutions.
Implement more programmes for continuing professional development and for obtaining higher level qualifications while remaining at work.
Publish annual information on the number of computer engineering/science graduates.
Support more complementarity between engineering and science studies.
Attract and integrate engineering and IT professionals from abroad.
Gather information on the engineering and IT qualifications of immigrants when they register with the social welfare systems on the island.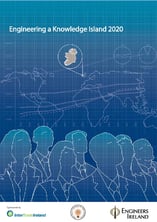 Click here to download the full report: Engineering a Knowledge Island 2020 Full Report
Click here to download Summary: Engineering a Knowledge Island 2020 Summary