Published: April 2003
InterTradeIreland has identified the current limited availability of cross-border air services within the island of Ireland as a significant gap in the range of transport facilities of vital importance to cross-border business development.
Air transport promotes economic development. It increases competition in trade by enabling producers to access new markets and by allowing importers to enter home markets.
Authorities in Northern Ireland, while recognising many of the challenges current market conditions generate for the local business community, have adopted a non-interventionist stance in relation to the air transport sector. In contrast the governments of both Scotland and the Republic of Ireland have been very active in supporting the development of internal air networks.
Air transport services within the island of Ireland have had a chequered history particularly with respect to cross-border services. Routes linking Belfast to Dublin, Cork, and Shannon have all proved to be unsustainable for a variety of reasons, i.e. no revenue support available from government, cutbacks in the wake of the September 11th and operators unable to sustain reliable operations.
The survey (750 respondents) and consultations (43 respondents) carried out in developing this report revealed considerable demand for air services between Northern Ireland and a range of locations within the Republic of Ireland particularly between Belfast and Cork/Dublin/Shannon.
Consultations within the industry have assisted in developing figures minimum passenger traffic. Costs of operating an aircraft suggest an annual cost of £1.9-£2.0 million (€2.9-3.0 million). These figures suggest that, a yield of £100 (€150) return excluding taxes and other off aircraft charges, based on 40,000 carryings per annum.
Belfast-Cork - based on the construction of a business air travel propensity index total demand levels would imply that Belfast-Cork might generate a market of up to 63,000 passengers per annum.
The survey results highlighted that if travelling on a Belfast-Cork route Northern generated business travellers would be willing to pay up to £200 (€300) return and for Southern generated traffic the majority of respondents were not willing to pay more than £150 (€225) return.
Belfast-Dublin - the report suggests that on the Belfast-Dublin sector a market might exist for up to 100,000 passengers per annum point-to-point.
For the Belfast-Dublin route the evidence implies that passenger revenue would be maximised at business fares between £70 (€100) and £100 (€150) return for suitably timed services.
Belfast-Shannon - the report suggests existence of a smaller market between Belfast and Shannon. This is a function of the overall scale of business in that area and current level of business connections between Belfast and Shannon compared to that between Belfast and Cork.
However, the propensity index does not take into account the additional demand that may result from intra-Ireland or international interlining at Dublin Airport or Shannon.
In marked contrast to a Belfast-Cork route both Belfast-Shannon and Belfast-Dublin have very considerable potential for generating interline traffic. The potential for interlining at Dublin relates not only to international travel to mainland Europe and North America but also "mini- hubbing" within the island. Shannon could represent a more attractive transit point for Northern Ireland traffic originating/destined for North America and the Middle East.
Undoubtedly, the creation of a mini-hub operation at Dublin/Shannon would not afford as an attractive routing as a direct service. However, the attractiveness of Dublin/Shannon as potential mini-hubs for Northern Ireland has grown as links from Belfast to international destinations via Heathrow and other airports in Great Britain have weakened because of the curtailment of British Airways services out of Belfast International.
There is a significant gap in the range of transport facilities of vital importance to cross-border business development. Results of the survey, consultations and economic analysis shows potential for a commercial service Belfast-Dublin, potential for Belfast-Cork possibly with PSO support and lesser demand for a Belfast-Shannon route (requiring PSO support) which could be supplemented by interlinking travel. The attractiveness of such services both for point-to-point and interlining traffic would critically depend upon timings and frequency. Therefore, we recommend the development of a strategy to advocate that both the industry and the two governments investigate the potential seriously.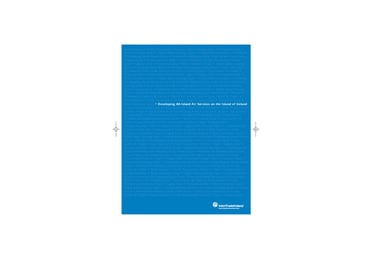 Click here to download the full Developing All-Island Air Services on the Island of Ireland report.