Published: November 2000
Topline Summary
The market for contract office furniture on the island of Ireland is estimated at IR£71m/Stg£56.8m in 1999 (at wholesale prices). 91.5% of sales are in the Republic, IR£65m/Stg£52m. Northern Ireland accounts for the remaining 8.5% or IR£6m/Stg£4.8m.
It is an expanding market, driven by demand from growth sectors such as financial services, computer technical support centres and software development, as well as knock-on expansion in support services. Dublin accounts for two thirds (approximately IR£47m/Stg£37.6m) of the island's market. There had been dramatic growth in Belfast due to call centre development.
Expenditure per employee on furniture averages from IR£600-IR£700 for an open plan office or call centre to IR£1,500 – IR£2,000 for a software development office.
Five Irish manufacturers, with combined output of about IR£22m/Stg£17.6m, account for about 27% of the market. Irish contract furniture manufacturers offer the important advantages of ease of access and contact during manufacturing.
Ireland imports about 67% (IR£50m) of its contract office furniture, principally from Britain.
The route to market is either direct from manufacturer or through a building contractor. Architects have an important role in specifying furniture.
Wave-tops and slide-back tops are emerging trends in table design. Irish buyers favour natural woods and Melamine Faced Chipboard is also popular.
There is very little advertising in this market. Promotional activity is usually direct contact by sales representatives with buyers and specifiers.
International manufacturers have advantages such as larger domestic markets, lower prices and more extensive ranges.
The office furniture market is buoyant and offers excellent opportunities for existing manufacturers to expand their product range to match those of overseas competitors. There is scope for companies that have similar skills e.g. shopfitting, to move into contract furniture.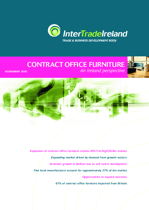 Click here to download the full report: Contract office furniture. An Ireland perspective